Policy Process
An overview of the policy development process and the guiding principles for developing policy content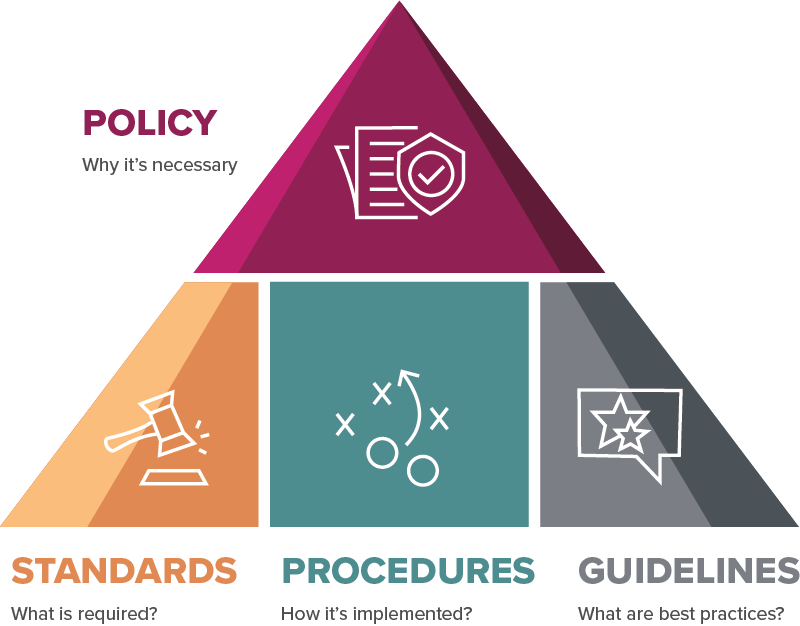 A triangle divided into four sections. At the top of the triangle, a section labeled, "Policy. Why it's necessary" On the bottom, left-hand side, a section labeled "Standards. What is required?" On the bottom, in the middle, a section labeled, "Procedures. How it's implemented." On the bottom, right-hand side, a section labeled, "Guidelines. What are best practices?"
What is a policy?
Policies are high-level statements with broad application throughout the university designed to promote operational efficiencies, enhance the university's mission, or reduce institutional risk. Policies state required actions that are defined by standards, procedures, and guidelines.
Read about the Policy Pyramid (PDF)
How are policies developed?
According to Policy on Policies, new policies must be written using the following template:
Initiate
Identify policy action required
Evaluate risk
Regulatory mandates & accreditation
Impacted audiences
Rapidity of policy action
Evaluate impact on other university guidance
Policies
Procedures
Handbooks
Catalogs
Forms
Decide course of action
Technical Update
Substantial Revision
Policy Obsolescence/Retirement
Develop & Approve
Prepare policy draft using redline version of policy template
Solicit and Integrate feedback
Stakeholders
Shared Governance/University Council
Policy Advisory Committee
Office of the Vice President for Policy and Governance
Acquire approval by the following, as applicable
University Council
Safety and Security Policy Committee
Vice President or President
Board of Visitors
Implement
Publish on policy website
Communicate policy per the Policy Communication Plan
Daily VT News
University Relations communicators group
Other sources, as identified by the policy owner
Educate employees and students
Update onboarding
Update training
Update training tracking procedures, if applicable for regulatory compliance
Board of Visitors
Enforce policy compliance
Assess
Analyze effectiveness
Monitor compliance
Policy awareness
Encourage feedback
Recognized policy discrepancy or conflict with business operations
Inconsistency with other guidance (policies/ procedures/forms, etc.)
Anticipated regulatory changes
Revise or retire policy
Review at least every 4 years, per the policy review schedule
Notify the Office of the Vice President for Policy and Governance if any review needed apart from the review schedule
How are policies approved?
Policies are typically created, reviewed and approved within one of the following pathways:
Vice Presidents -
Responsible for administrative policies under the respective vice president's purview, such as financial or facilities policies.
University Governance -
Responsible for academic and operational policies that deal with the university's missions of teaching and learning, research and discovery, and outreach and engagement, some of which may require additional approval by the Board of Visitors.
Safety and Security Policy Committee -
Responsible for policies addressing university safety and security and emergency management, with authority delegated from the Board of Visitors.
Board of Visitors -
Responsible for hiring the president; approving salaries, personnel and student conduct policies, awards of tenure, tuition and fees, the university's budget, new colleges, departments, and degree programs, and commemorative namings and special awards; the physical plant; and safety and security. This is the governing body of the university and operates under the control of the Virginia General Assembly.
Have questions about the policy process?
Reach out to the office of the Vice President for Policy and Governance at vppg@vt.edu for more information.